Biit Me Riga Record Store atklāja durvis 2019. gada maijā. Pašlaik tas ir vienīgais mūzikas veikals Rīgā kas specializējas uz deju un elektroniskās mūzikas uz vinila un piedāvā skaņuplates gan dīdžejiem, gan kolekcionāriem un vienkārši mūzikas cienītājiem. Sortimentā arī džezs, hip-hop, ambient, indie, eksperimentālā, pasaules un latviešu mūzika. Par mūsu vēsturi, ideju un komandu labi stāsta šis TVNET raksts.
>>>

Pilns plašu saraksts uz vietas Rīgā (jaunās un lietotās)
>>> Plates no Rīgas krājuma tiešsaistes veikalā
Pagaidām uz vietas Rīgā ir ap 1000 skaņuplašu (pārsvarā jauno, bet ir arī laba second-hand sekcija), un krājumi parasti tiek papildināti katru nedēļu. Taču kopā ar Tallinas veikalu mēs piedāvājam daudz plašāku produktu klāstu, un to visu ir iespējams iegādāties Rīgā tiešsaistē – pie tam, BEZ PIEGĀDES MAKSAS UN MAKSĀJOT VEIKALĀ SAŅEMOT PASŪTĪJUMU! Ekrānšāviņā ir paskaidrots, kā tiek noformēts pasūtījums ar piegādi uz veikalu pēc produktu izvēles: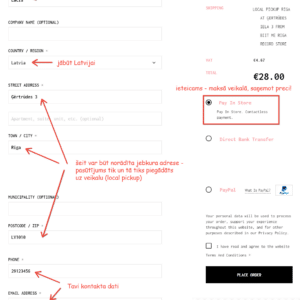 Mēs arī veicam pasūtījumus pēc pieprasījuma – visbiežāk pa ļoti pievilcīgām cenām un tāpat bez piegādes maksas. Sūti mums kāroto plašu sarakstu (var būt arī CD vai kasetes) uz riga@biit.me un mēs paziņosim pieejamību un cenas!
Biit Me Riga Record Store has opened its doors in May 2019. At the moment it is the only shop in Riga specialized in dance and electronic music on vinyl (mostly mint, but also second-hand); however, we also stock jazz, funk, ambient, experimental, world, indie, Latvian, hip-hop and other non-mainstream music.
>>>

Complete Riga stock sheet (mint and second-hand)
>>> Riga records in the web shop
Currently we have in-store around 1000 cherry-picked records (normally, with weekly updates) – yet we do have much larger stock in Tallinn, and it's all available in Riga through our web shop. And, most importantly, with FREE SHIPPING AND PAY ON DELIVERY! Click on the thumbnail for instructions how to finalize your order for local pickup in the Riga store after selecting the products:
We are also doing custom orders, normally offering very attractive prices and also with free delivery. Just drop an email to riga@biit.me with your wishes and we'll get back to you with availability and prices.
Address:
Ģertrūdes iela 3, Rīga, LV-1010
COVID working hours / pagaidu darba laiki:
Wednesday – Friday
16:00-20:00
collecting orders only – please order online!
tikai pasūtījumu izsniegšana – pasūtiet tiešsaistē!
Email: riga@biit.me
Phone: +371 22151851